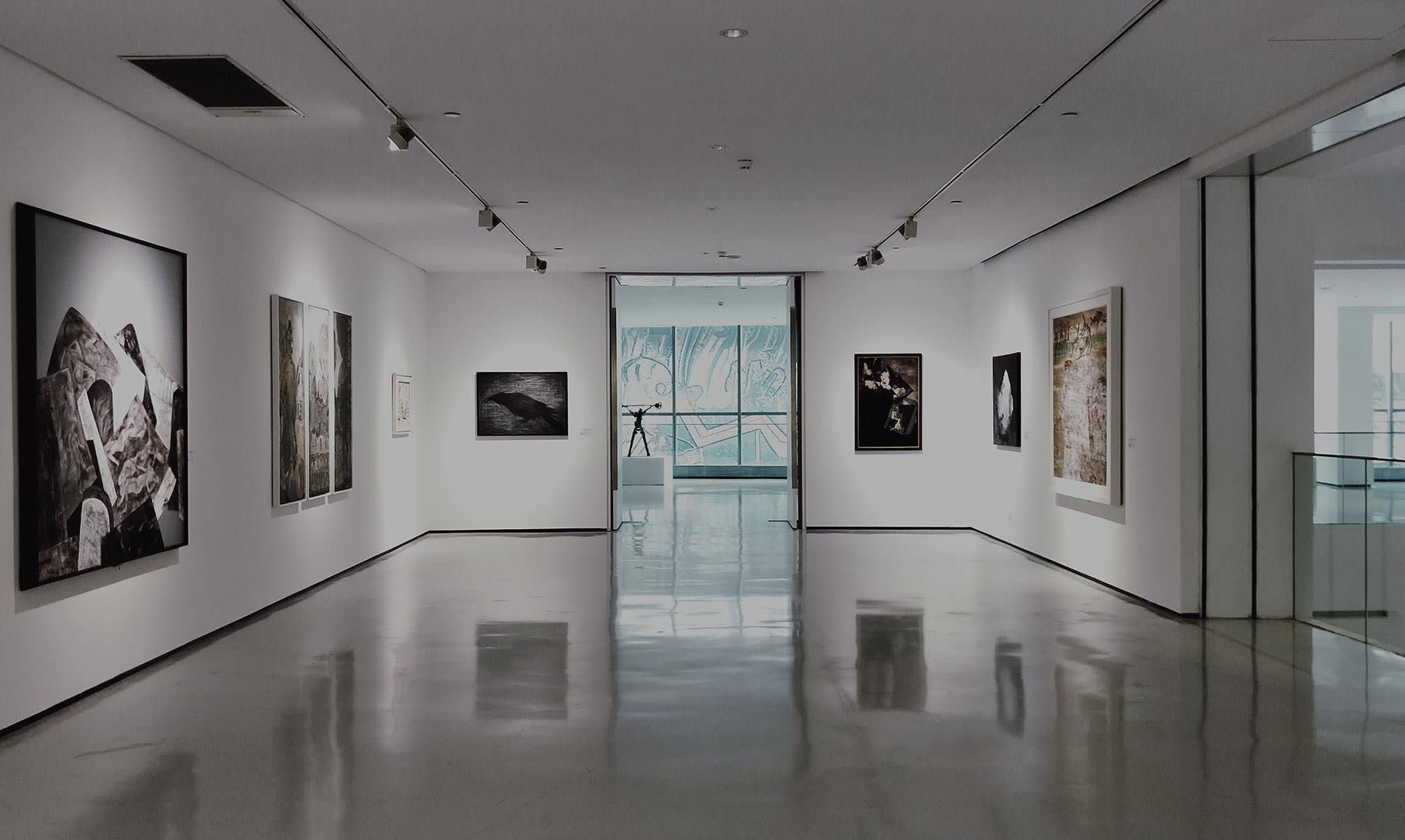 Art Gallery Software - Reinvented.
Discover the Next Generation platform to efficiently run and grow your art gallery.
Powerful and flexible solution for art galleries
Discover the comprehensive range of solutions to run and grow your gallery,
with multi-user access and on multiple devices.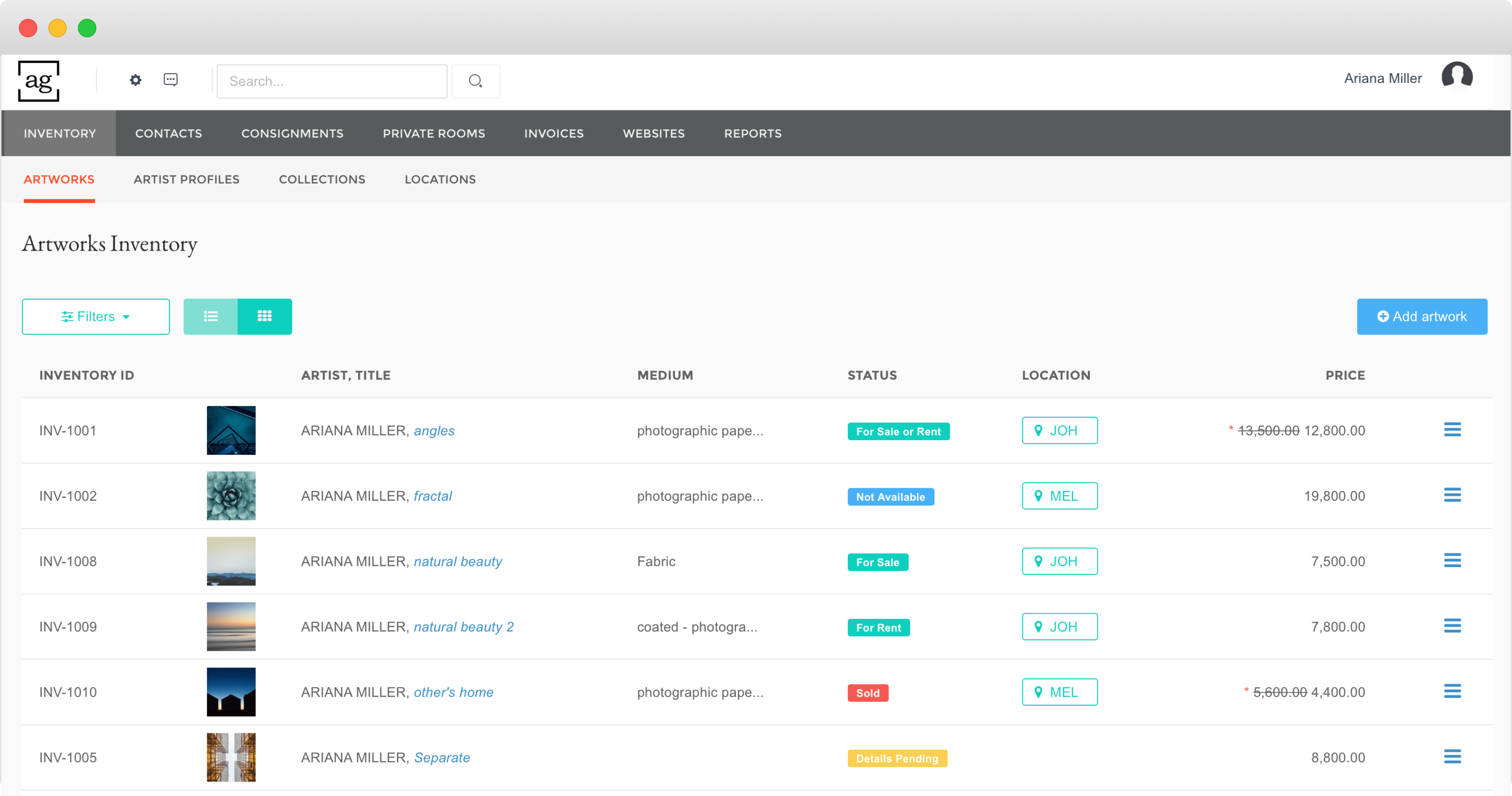 Manage
---
Inventory Management
Catalog your full art inventory, current and sold.
Custom Fields
Easily add, rename and reorganize fields to perfectly match your data requirements.
PDF Catalogs and Labels
Create stylish collection catalogues, exhibition marketing materials, floor plans and more. With our Label Designer, you can now create as many label types as you wish, including wall and inventory labels with QR Codes and barcodes, save them and use them as often as you like.
Artist Portals
Allow artists and collaborators to upload and submit artworks directly to your gallery. You can review, accept and reject submissions with full workflow support.
Pricing & Availability
Manage pricing, specials and availability for each artwork.
Website Auto-Updates
Your website and inventory will always be in sync. No more spending time and money to update your gallery website. Easily integrate with platforms such as SquareSpace, WIX, WordPress, Shopify and more.
Artwork Cards and QR Codes
Easily create and print artwork cards for exhibitions and tracking, with smart QR Codes.
Image Vault
Keep hi-res photos of your artworks in one place. Safely store one or multiple images per piece.
Document Vault
Archive unlimited documents individually for each artwork. Up to 80+ document types are supported.
Multi user access
Do you work with other people? You can invite them to access your account and suspend access when required.
Secure and private
Control access and share only specific artworks or collections. By default, all your information is private and secure.
Sell more
---
Private Rooms
Create private online rooms and invite your contacts to exclusive online viewings of a selection of your art.
Mailout announcements
Send email announcements for upcoming exhibitions, availability of new artworks or specials via the Private Rooms feature.
Invoices & Payments
Print or email professional invoices and track payments received. Accept credit card payments for your invoices online, in person and over the phone.
Track
---
Consignments
Manage consignments with ease. Print or email professional consignment reports. Check-in and check-out artworks to physical locations.
Contacts
Easily manage all your business contacts. Group them for easy viewing.
Locations
List all locations you deal with (galleries, studios, storage places) and track where your art is at all times.
Gain insight
---
Sales reports
Track and graph your sales over time.
Inventory Reports
Track and graph the artworks for sale in your inventory as you create and sell your art.
Consignment reports
Create professional consignments reports to send to exhibitors and track where your artworks are at all times.
Insurance reports
Reports for insurance, including valuation figures.
Focus on what matters
---
Get organized and regain time to do more of what you are passionate about: discovering new talent, and representing talented visual artists.
Easy to use
Access intuitive, simple to use tools to showcase your art.
Affordable
Leverage professional tools to manage and grow your art business at affordable prices.
Saves you time
Do more in less time, which allows you to do more of what you love.
Safe and secure, including backups
Your data is automatically backed up, stored and secured in world-class data center facilities.
Cloud-based
No installation required. Simply use your Internet browser on your favourite device.
7 x 365 Support
Fast, knowledgeable and friendly support team always available to assist you, 7 days a week, 365 days a year, even on holidays.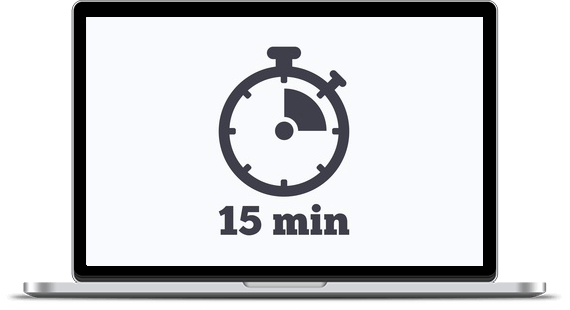 GETTING STARTED
Free setup and data import
You can easily get started uploading your art and other information yourself, or you can make use of our free concierge service. We can work with you to get your current data (from other systems, spreadsheets, etc.) and setup it all up in your private Art Galleria cloud. This free service applies to the transfer of artworks, artists and contacts information.
We found that on average it takes less than 15 minutes for our users to gather and email us the information in CSV or spreadsheet format (a requirement for this service), which we then organize and import in their private account.
Gallery Starter
$
55
per month (billed annually)
or $66 billed monthly
---
500

artworks

500

artist profiles

Single

user

1

artist portal
Online support
Free 14-day trial
Free setup and data import
Start Free Trial
Gallery PRO
- Most Popular -
$
95
per month (billed annually)
or $114 billed monthly
---
5000

artworks

5000

artist profiles

3

users included

10

artist portals
Online support
Free 14-day trial
Free setup and data import
Start Free Trial
Gallery Unlimited
$
180
per month (billed annually)
or $216 billed monthly
---
Unlimited

artworks

Unlimited

artist profiles

5

users included

Unlimited

artist portals
Phone & Online priority support
Free 14-day trial
Free setup and data import
Start Free Trial