Your entire art business, simplified.

Beautiful, powerful and easy to use software to efficiently manage, automate and grow your art business.

Learn More ↓

Designed for galleries, artists, archivists and collection managers.

Technology built specifically for the art world.

Learn More ↓

Unlimited storage, free upgrades and no hidden fees.

Because no matter whether you are a gallerist, an artist or a collector, technology should be there to support you in doing what you love most!

Learn More ↓
Elegant, efficient, effective.
Work less, achieve more. We believe that no matter whether you are a gallerist, an artist or a collector, technology should be there to support you in achieving more with less effort. Discover the comprehensive all-in-one platform for art management, art marketing and sales, and website creation services to help you manage your collections, keep your data organized, automate and grow your art business.
We make it our mission to create an innovative, efficient, easy to use and powerful technology platform to enable you to keep your art organized, nurture your client relationships and save you an astronomical amount of time. With a knowledgeable team of software developers and experts in technology, it's easy to see why we have emerged as global market leaders in the art industry.
Designed for galleries, artists, archivists, collection managers and organizations.
For Galleries
Manage your complete artwork inventory, artist profiles, contacts, and easily generate invoices, stylish marketing materials and collection catalogs at the touch of a button.
More for galleries →
For Artists
Upload, store and manage your artworks on one safe, secure, cloud-based platform. Plus, download our free mobile app so that you can carry your portfolio everywhere you go.
More for artists →
For Collectors
Keep your collection data safe, secure and private. Plus, use the platform to privately share selected artworks with invite-only exclusive clients, using our Private Rooms feature.
More for collectors →
Art Inventory Software
Overview
Powerful Database
Powerful, lightning fast, flexible and easy to use comprehensive solution to manage inventory and nurture customer relationships. Automate your work with our integrations and eliminate double data entry.
Marketing & Sales Tools
Create online Private Rooms, offers, invoices and professional-looking marketing catalogs and materials quickly and easily. Produce quotes and invoices in the language and currency of your choice.
Mobile Apps
Free mobile apps to access your portfolio and contacts on to the go, wherever you are. For iPhones, iPads and Android devices.
Extra services
We also provide custom solutions, bespoke marketing material, websites & mobile apps developed specifically for your gallery or organization. Our team of experts is ready to assist you with your next project.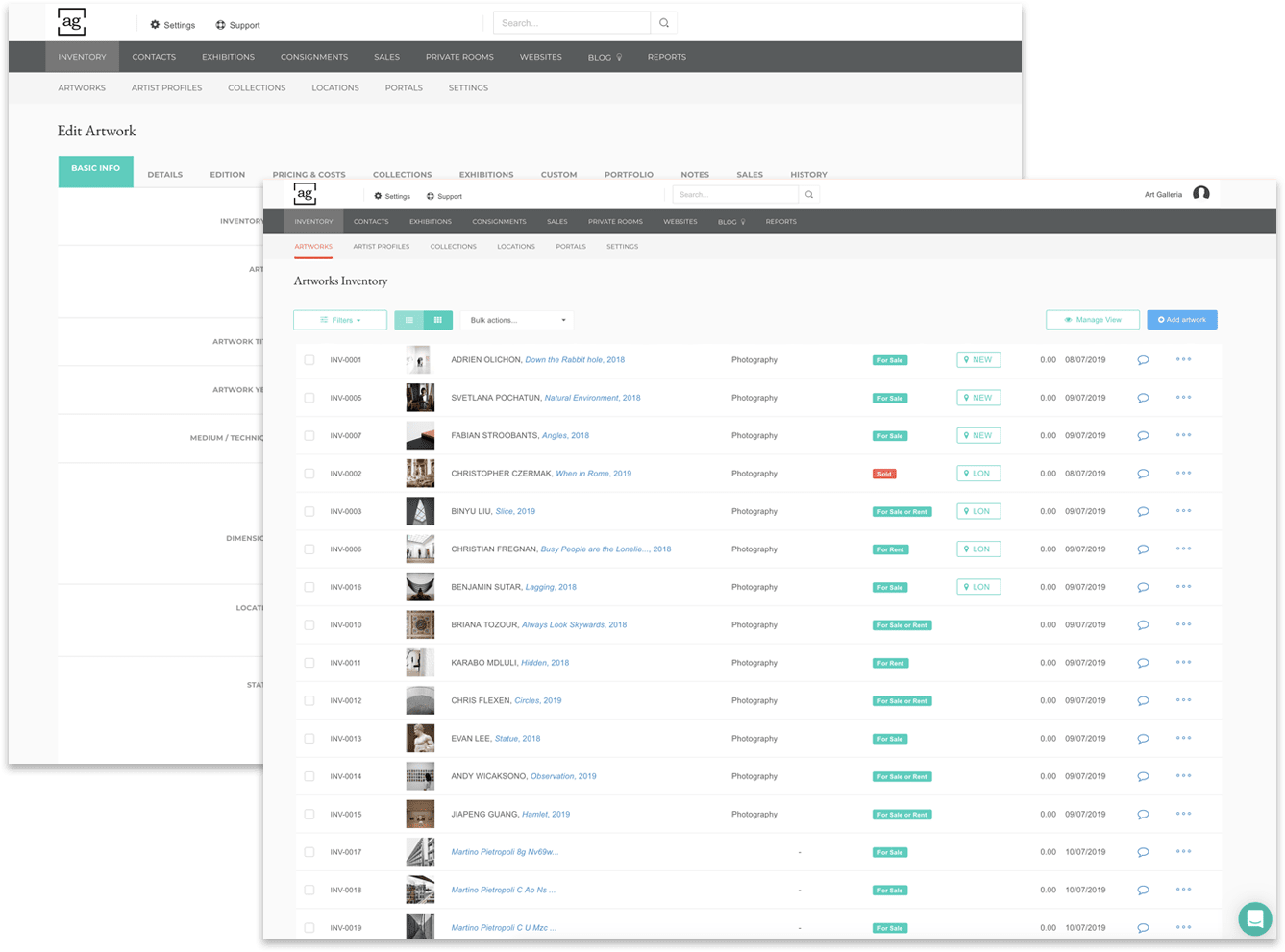 Database
Easy to use, powerful when you need it. Manage your entire art inventory, contacts and sales on our secure platform, lightning fast.
Catalog your full art inventory, current and sold. Easily add, rename and reorganize fields to perfectly match your data requirements. Track locations, consignments, exhibitions, collections and more. Add unlimited high resolution images and documents to each record.

Comprehensively document artists in your collections (or your own profile) in unprecedented detail.

Build powerful relationships with your clients. Reach out with ease and always know what your clients are interested in.

Track artworks associated with an exhibition, and easily create various marketing materials and catalog for your upcoming events.

Create art submission portals for the artists you represent and accept artworks in your inventory with full workflow support.

Easily add, rename and reorganize fields to perfectly match your data requirements. Many different types of data fields are supported, such as text, numeric, price, checkboxes, weblinks and dropdown menus with values you set.

Keep artwork images and documents organized with each artwork record. You can upload unlimited number of high resolution images and documents per artwork.
Invoicing and
Sales Reporting
Upload, manage and track your entire art inventory and contacts book on our secure platform.
Effortlessly craft invoices complete with artwork details, tailored to your customer's preferred language and currency. Print or email professional invoices and keep track of received payments.

Integrated Payment Processor

Accept online and in-person credit card payments for your invoices.

Send offers from your inventory and track offer details, staff, follow ups and status. Once an offer is accepted, easily convert it into an invoice with one click. This feature is currently in Beta and can be added on request.

View at a glance outstanding invoices, and create in-depth sales reports.

Use the reporting tools or ask our team to assist you with creating customized reports to precisely match your requirements.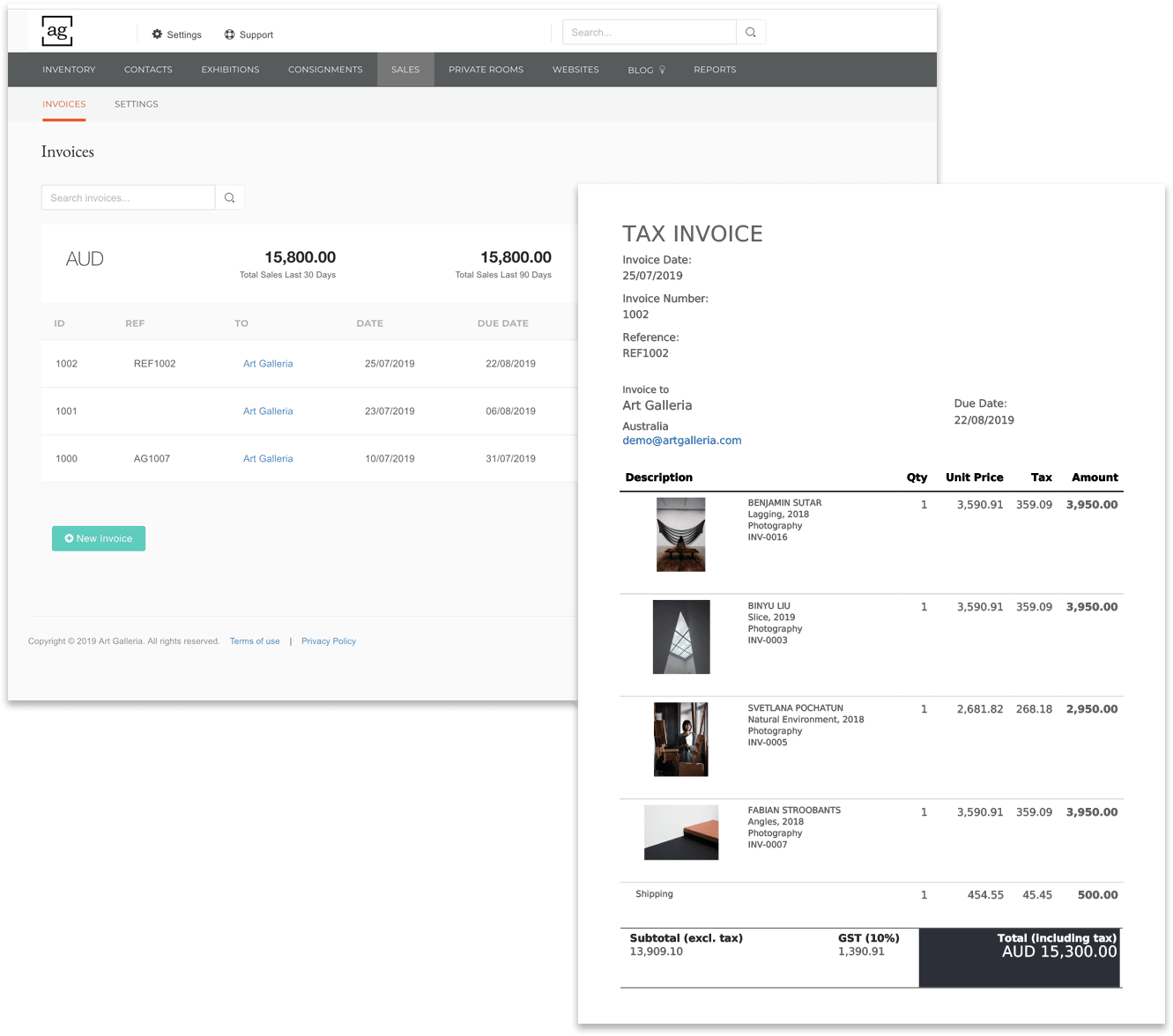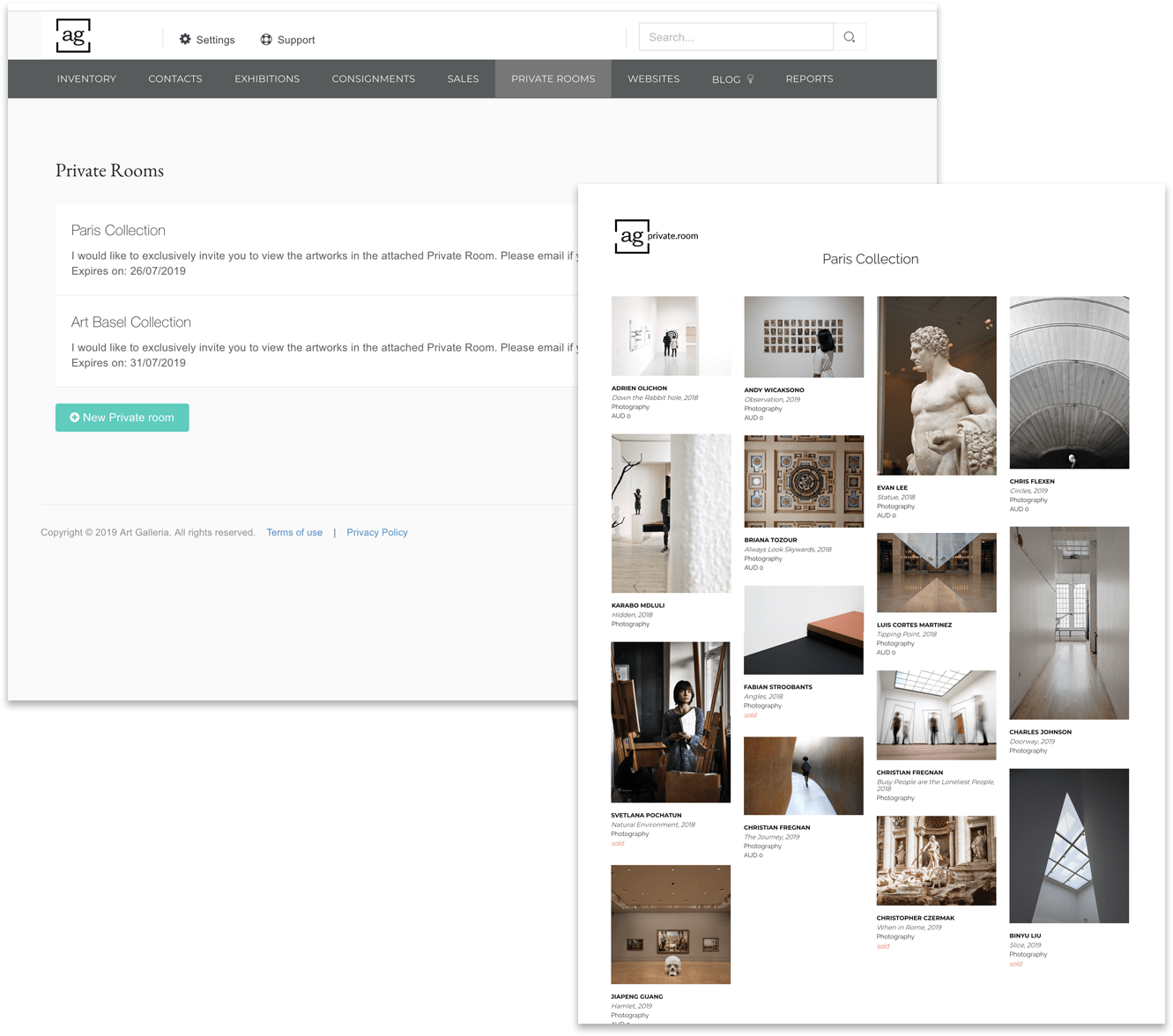 Private Rooms
Create private online rooms and invite your contacts to exclusive online viewings of a selection of your art.
Send Exclusive Email Invitations

Use our Private Rooms feature to privately share selected artworks with invite-only exclusive clients.

If desired, you can allow your contacts to download PDF catalogs of your collection for future reference.

Receive inquiries about artworks in your Private Rooms directly to your inbox.
Easily generate PDF marketing materials
Create stylish collection catalogs, exhibition marketing materials, floor plans and more.
Easily create PDF catalogs for your collections with one click. Multiple layout option are available.

Create professional artwork cards for your exhibitions or to track inventory. Include automatically generated QR Codes and barcodes for your clients to scan, or use the free companion Art Galleria mobile apps to scan and instantly retrieve full artwork information from your inventory.

Price Lists and Floor Sheets

Create price lists and floor sheets for your next exhibition or consignment.

Certificates of Authenticity

Automate the process of creating certificates of authenticity for your artworks.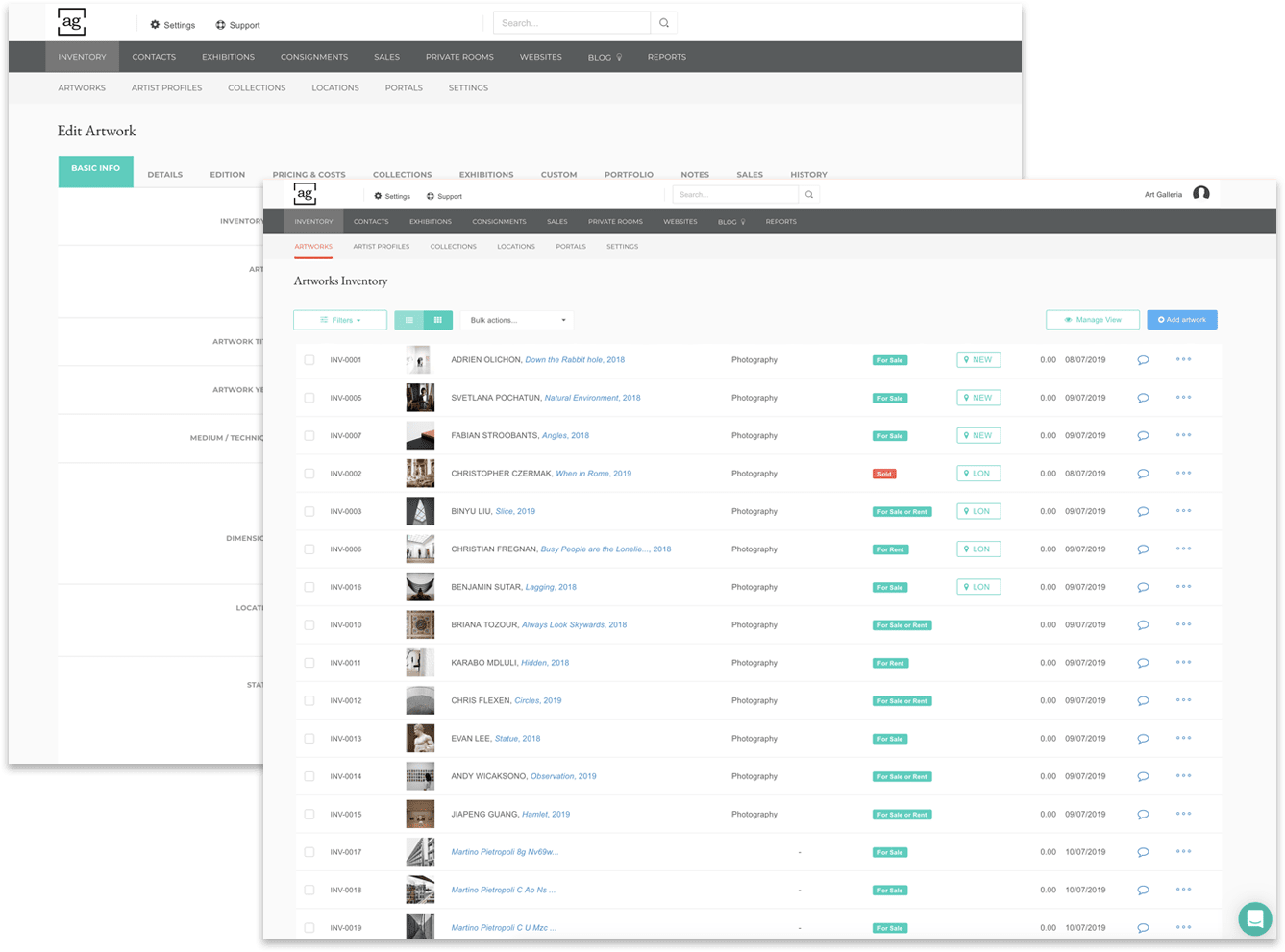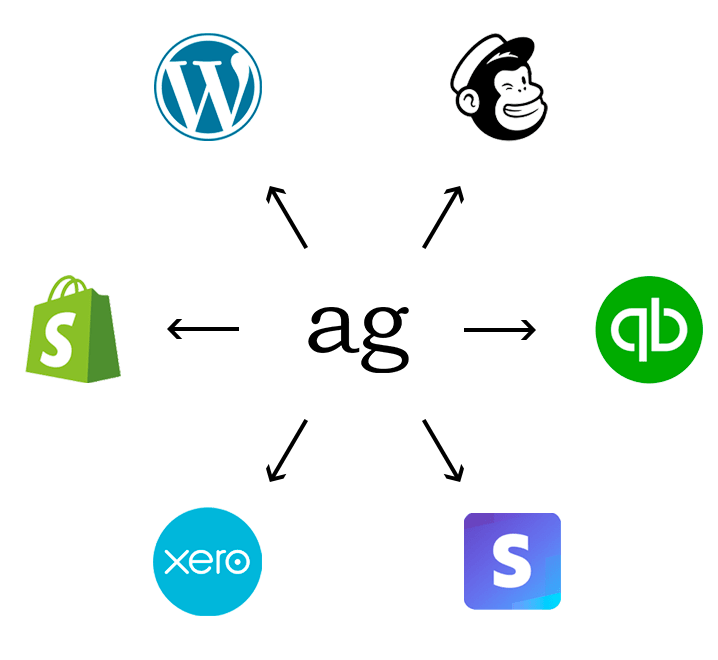 Most integrated arts software
Automate your art business or collection management.
With Art Galleria integrations, your website and inventory will always be in sync. No more spending time and money to update your website. Easily integrate with platforms such as SquareSpace, WIX, WordPress, WooCommerce, Shopify and more.

Integrate with QuickBooks and Xero to automatically sync invoice and contact information from Art Galleria to your accounting system.

Integrate with MailChimp to keep your contacts continuously in sync.

Our team can assist you with other types of integrations. Please contact us for more information.
Mobile Apps Included
Access your full portfolio and contacts on the go, wherever you are.
For iPhones, iPads and Android devices.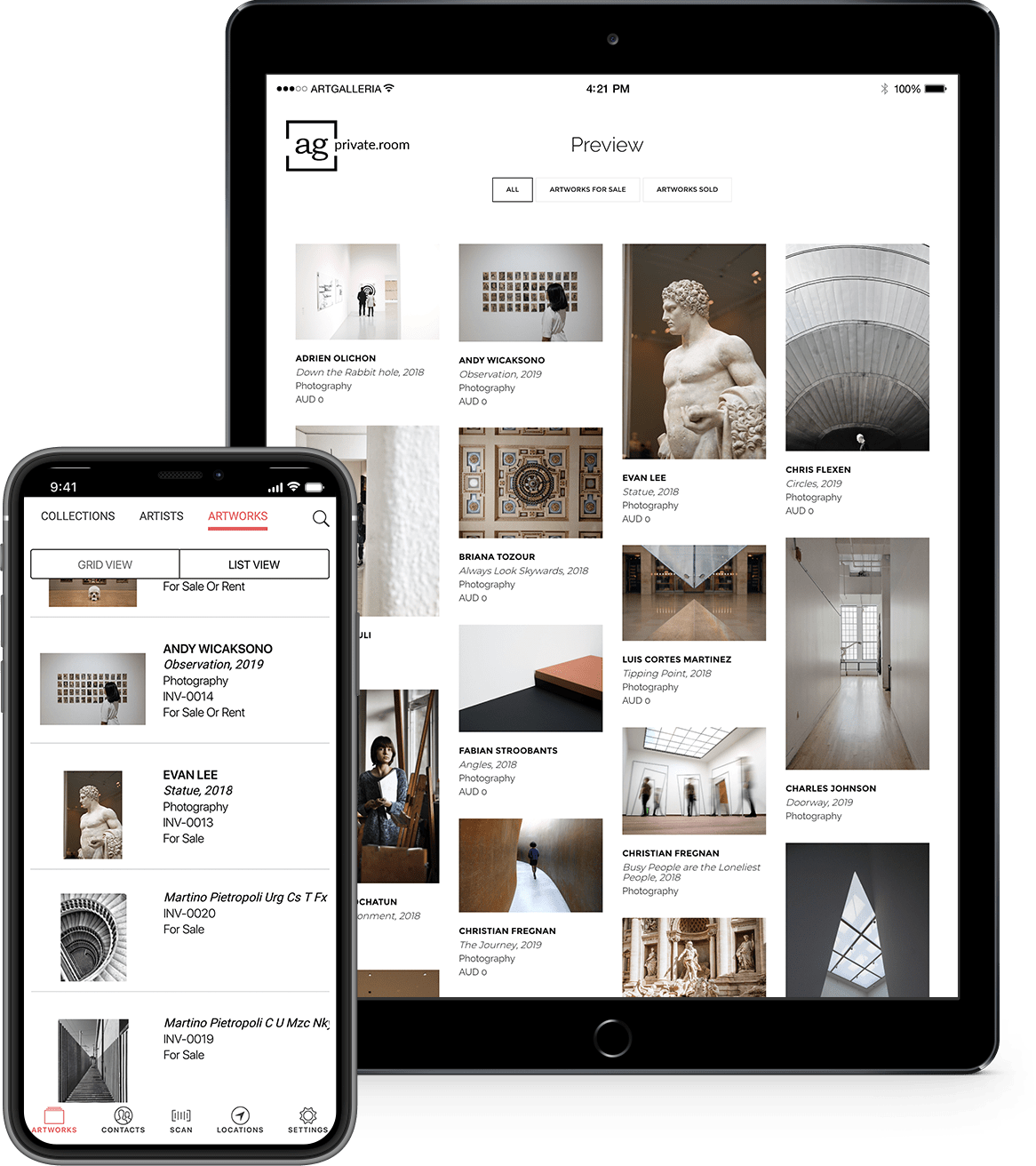 iPhones & iPads Android
Full Portfolio
Browse and search your artworks, art collections and artists. Display, upload and edit artwork information.
Scan To Access
Scan QR Codes to instantly retrieve your full artwork details.
Contacts and Locations
Manage your business contacts and view artworks at locations.
Share artworks
Easily share artwork information with your contacts via text, email, AirDrop and more.
Apple TV App Included
Transform any space into an exhibition of your Art Galleria inventory with AG Slides, our Apple TV app. Whether it's your gallery, studio, office, or any exhibition space, be prepared to present your collection with flair and style.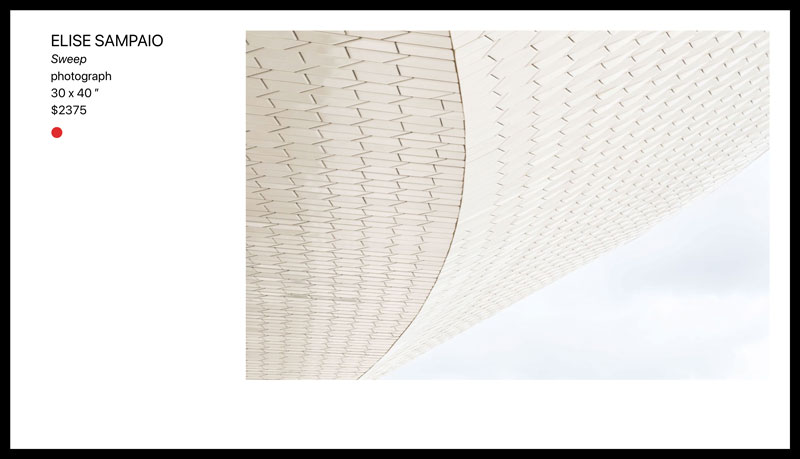 Other features
Secure Cloud-Based
No installation or servers required, simply use your Internet browser. Your data is automatically backed up, stored and secured in world-class data center facilities.
Lighting Fast
Fast and responsive interface allows you to work with no interruptions. Computing capacity is continuously reviewed and increased as requirements demand.
7 x 365 Support
Fast, knowledgeable and friendly support team always available to assist you, 7 days a week, 365 days a year, even on holidays.